Farm Garden Tractor Machine Agricultural Power Steering Kit For Farm Equipment For Sale Philippines
Product Description

From DY184 to DY404 DY 254~404

Models

184(180)

204(200)

254(250)

284(280)

304(300)

354(350)

404(400)

wheel Drive

4×4(4x2)

Dimension(L*W*H)mm

3350*1500*1860

Weight(kg)

1210-1380

Front wheel Tread(mm)

970,1200,1300 unlimited adjustable

Rear Wheel(mm)

1000,1200,1300 unlimited adjustable

wheel Base(mm)

1750

Minimum Land Clearance(mm)

330(340)

Gear shifts

8F+2R

Tyre Size

9.5-24/650-16(9.5-24/550-16)

Engine Specification

Model

JD295

JD295

JD2100

JD2102

JD/LD 390

JD490 or
LD 4L22

JDM490 or
LD4L23

Type

2 Cylinder or 3 Cylinder

3 Cylinder

4 Cylinder

Type

Fuel Diesel ,water cooled ,Vertical,4 stroke and Direct injection

Rated Power(kW)

13.23

16.16

18.37

20.58

22.06

25.7

29.4

Rated Revolution(r/min)

2300/2400

Start Way

Electricity Start

Transmission

(4+1)*2 shifts

Clutch

Single chip,Dry friction,Constant conjunction, Single clutch.double clutch

PTO Speed

6 spline, Dual speed 540/720

Clutch

Single stage Clutch

Steering

Hydraulic Steering and Double hydraulic Pumps

Optional part

Roll bar

Swing draw bar

Sun-shade ,canopy (ROPS)

spring seat

Multi-way valve

Double clutch

fender

7.5-16/11.2-24 Tire

Air brake

combination instrument

Steel frame package

Cabin(including the heater and fan)
Huabo offers broad range of tractors from 16 HP to 125 HP. The brand is present in more than 100 countries and areas across five continents. The series tractors are approved by OECD and the main range of tractor already got CE Certificate.
we offers a wide choice of features across the full range of tractors. Power steering, 2WD/4WD options, Cabin, Roll Over Protection bar, canopy, Choice of tyres i. e turf tyres, industrial tyres, High lug tyres are available across the range.
we owns the range of features, makes it one the most suitable tractors for a host of applications. The tractors are suitable for garden applications, hobby applications, wet & dry land applications, transportation in plain or hilly areas.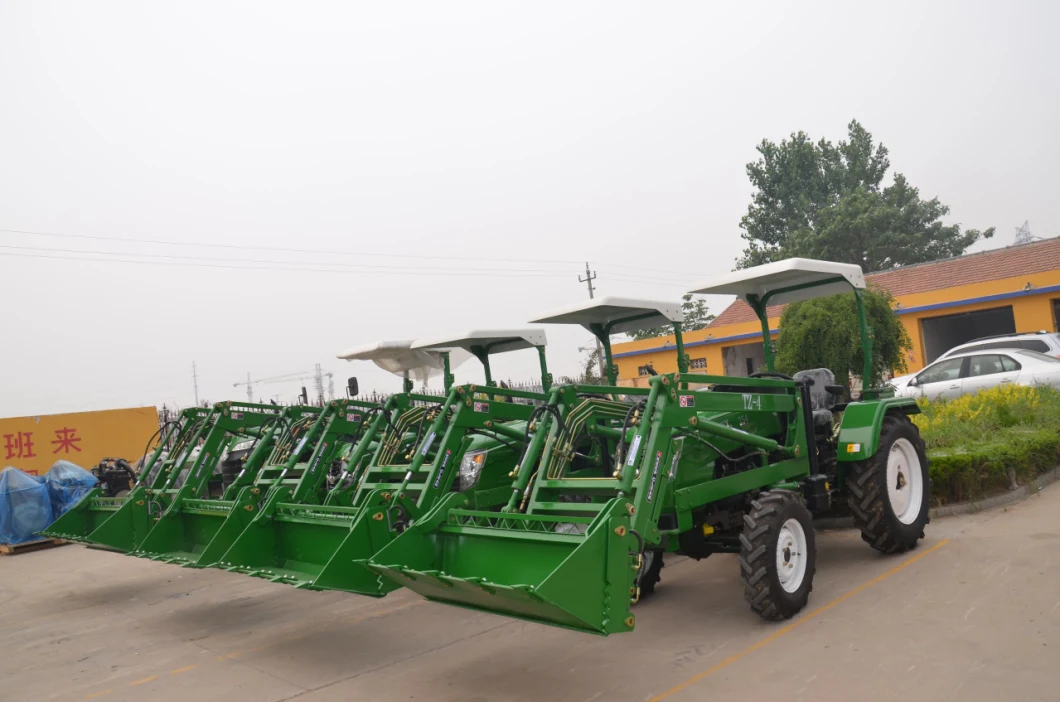 Our utility of the tractor is further enhanced by the offering of a complete range of matching implements like loaders, backhoe, post hole digger, scraper, leveler, rotavator, tiller, cultivator, plough, harrows, wood chipper, mower, snow
Blower etc.
same time we offers the backed up by trained manpower, spares parts & service supports at the nearest distribution point in all the countries.
The dude brand Farming machinery and farm tractors are being built to give a totally satisfying experience to the customers. Product Description
130HP 4WD Large Farm Tractor with High Quality Factory


Selling Points:
This tractor, which is the directly link engine type ,hans good performance in medium horsepower range. Tractor equipped with jaw differential lock , which improves tractor through ability . The set of the hydraulic output valve can be directly connecting to the tipping trailer . According to the requirements of different users ,tractor can have a variety of configurations .User can choose single acting or double action clutch ,air brake ,grassland tire ,paddy field tire ; Power output can coose single speed or double speed .Wheel track can be fixed or adjustable .
Package :
1. Complete package(assemble tractor): 20GP : 2 units /40HQ : 4 units
2. SKD package: (steel frame package) 20GP: 8 units /40HQ : 16 units
Service
:
Warranty time and the Spare Parts
1. Warranty time
We supply you 1 years warranty time.
2. Spare Parts
The Easy-damage parts, we will send you together with the tractor for free. And in warranty period, if the spare part is not work because of the quality, we will send you new parts for free.
3. Tool Box
We will send you the tool Box For free.
company :
we are tractor manufacturer in china for 16 years ,
our main product is 10hp to 150hp all kinds of tractor
And we can supply as follows: